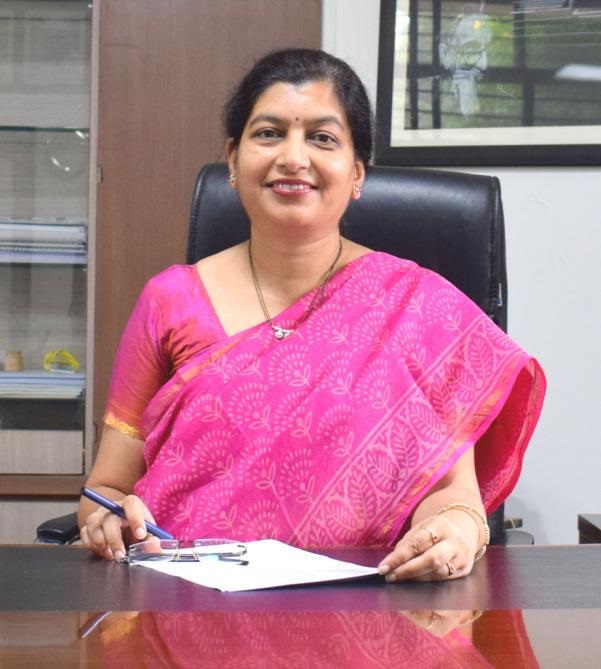 Dr.Prajakta Baste has graduated – B'Arch – from Sir. J.J College of Architecture in 1994. She has done her M'Arch in Environmental Landscape from Premier University – Centre for Environmental Planning and Technology – CEPTAhmedabad. She pursued her Doctoral Studies in the same university in the subject of 'Water A Natural Resource and its relation with Human Settlements


Vision for the Institute
      She indulges with compassion for developing the students for becoming competent Professionals in the field of Architecture and Design. She believes in a multidisciplinary development and seeks to create conducive environment for students in the institute. Being Experimental in the Teaching Learning process is what enables her to evolve as a teacher and a mentor to students. Seeking inspiration from Prof Prabhakar Bhagwat, Prof Kulbhushan Jain, she has keen interest in Research and Documentation. A sound body of Research contributing to the practice and profession of Architecture and its allied disciplines is a role that the institute defines for itself. Having conviction in contributing to the society she makes efforts to imbibe this aspect in the students through various activities of the institution. Being sensitive to the Environmental aspects within the field of Architecture and Design is an approach she envisages to inculcate in the aspiring students.
        She believes in harnessing the individual expertise and potential of the faculty for enriching the academics of the institute, giving them scope to perform and excel in the field of Academics.
      Encouraging students to become masters in their areas of interest is what underlines the academic activities in various subjects in the higher years of Design Education.
        An interface with the professionals and the academic fraternity pan India and across India is a need that she feels to be fulfilled in the immediate future. Expanding the institute at the higher platforms of Education in the field of Design and Architecture is on the forefront of her roles for the institute. A seamless alignment with the National Education Policy – NEP 2020, in a successful manner is the objective to be accomplished in the near future.
Profile
---
    She has an experience of working on Architectural projects ranging from Residential, Commercial, Public, Religious and Institutional category. Practicing as a Landscape architect, she has worked for various landscape projects in and around Nashik.
     After completion of Ph.D in 2014, she is contributing in the work for Pollution Abatement of River Godavari in Nashik. She is appointed as an expert by the Mumbai Highcourt on the committee appointed for reducing the pollution of River Godavari and developing it environmentally. She seeks inspiration and guidance from Magasaysay Awardee the Water Man of India. Rajendranath Singh. Her work extends to the field of Urban Water management, Rivers in the Urban Areas, Relation of Society and water resources. She has a deep connect with the city of Nashik and she associates herself at the forefront to deal with the City level issues.
     With a sincere intention to increase awareness within society for the field of Architecture and Design she has written articles on Issues related to Architecture and City Planning in Newspaper of Maharashtra Times 2016. Recently last year 11 articles on Ground water and its Features were published in VIGYAN VARTA of Maharashtra Times.
    She has presented and published several research papers on various issues of Water. One of her acclaimed papers is 'Water management in Rural Areas of Maharashtra' presented in Seoul- S. Korea. A research on – "Need for Rules and Regulations for Monitoring Ground water in Urban Areas" was appreciated in International Conference on Ground water in 2017 – New Delhi.
      Her work in this field has been acknowledged by various organisations and she has been awarded the, Swayam Siddha by Shivsena, Hirkani Puraskar by Khandesh Maratha Mandal, Karmayogini Puraskar. – by Deshdoot.
        Her work continues as a passion in Architecture, Culture and Society and in the field of Water.